Our Churches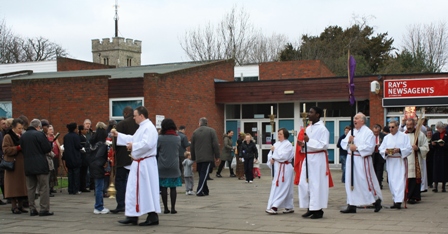 St Mary's is the ancient parish church of Hendon, and records show that there has been a church on this site since at least 959AD (see history). Today St Mary's hosts a large and diverse congregation. Our main Sunday service is at 10am, during which Junior Church meets. This Eucharist is sung (with the choir), there is a sermon, and there is an opportunity for conversation and fellowship over refreshments afterwards. There is also a said celebration of the Eucharist at 8am according to the Book of Common Prayer, and Choral Evensong is sung at 6.30pm by the choir.
Christ Church was built in 1881 as a chapel-of-ease to St Mary's. We are a very welcoming congregation, which meets at 11.15am each Sunday. Our Sunday Eucharist is sung, with a sermon, and refreshments are served in the Parish Centre after the service.
St Mary's and Christ Church is a Church of England (Anglican) parish in the Diocese of London (Edmonton Area). Our worship aims to be both reverent and relaxed. We give glory to God through our music, the use of incense and the wearing of liturgical vestments. Our main acts of worship use Common Worship (contemporary language). In the worship section of this website you can find our service times and more information about what happens in church.